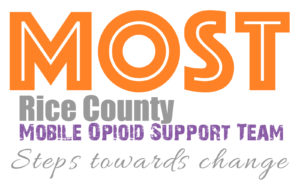 The Mobile Opioid Support Team has expertise in local recovery resources and social services that will help individuals identify and address their needs and begin and sustain recovery. The team will meet individuals anywhere in the community, and visits can continue as long as the participant asks for additional support.
The goal of these visits is to help people lead healthier, safer lives.
The team can connect people to local resources, including but not limited to:

food access
county services
chemical health assessments
family support
free naloxone
treatment and recovery resources, including medication assisted treatment
Who We Serve:
Residents of Rice County
Individuals who use opiate drugs
You can help by referring those that are experiencing Opioid Use Disorder for an initial visit from the team.
Participation is voluntary and visits can be discontinued at any time.
The Mobile Opioid Support Team is part of the Rice County Opioid Response Project. For more information on the Opioid Response Project, click HERE.
For more information or to refer someone to the program:
Phone: 507-299-0204