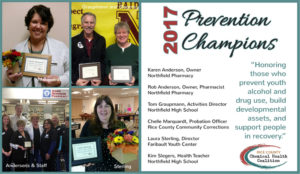 The Rice County Chemical Health Coalition has announced its 2017 Project Prevention Champions, community members who support a healthier life in Rice County by reducing risk factors for drug and alcohol abuse, supporting recovery and building assets in our youth.
The following individuals exemplify what it means to be a champion for preventing substance abuse in our community:
Kim Slegers
Kim is described as a "phenomenal teacher and coach" at Northfield High School. Both on the track field and in the health classroom, she is committed to each student and athlete, always encouraging individuals to achieve more. By remaining trustworthy and positive, students respond by giving their best effort. She is frank and knowledgeable about the consequences of drug and alcohol use, always encouraging her students to choose a healthy lifestyle.
Laura Sterling
Laura is recognized for her work in developing the Faribault Youth Center at the Faribo West Mall. With the help of volunteers and minimal financial resources, she has created a safe space where youth can gather and socialize without exposure to drug and alcohol abuse. The Center serves youth ages 8 – 18 and includes a variety of recreational activities and offers occasional special events. Laura has devoted countless hours to keeping the Youth Center's doors open and expanding the volunteer base.
Rob and Karen Anderson
Rob and Karen of Northfield Pharmacy are awarded the Prevention Champion award because of their deep commitment to community members in recovery. They work tirelessly with insurance companies to make sure customers continue to get their necessary medications, while treating their patients with respect and dignity. Rob takes a positive approach to the opioid problem, and is committed to preventing the abuse of prescription drugs. According to one nominator, Rob approaches his pharmacy business with "a rare degree of dedication and compassion." They have both made a tremendous impact on many lives, especially with those who struggle with sobriety.
Tom Graupmann
Tom, Northfield High School Activities Director, is committed to helping athletes and coaches succeed no matter what it takes. For the past 16 years, Graupmann has worked tirelessly (often putting in 12-hour days) to support youth activities at the High School and to promote healthy living through his support of initiatives such as Life of An Athlete and RALIE. Throughout his career, Graupmann's philosophy of building assets and supporting life lessons for success after high school has influenced thousands of Northfield youth.
Chelle Marquardt
Chelle of Rice County Community Corrections has long shown a commitment and passion for helping youth navigate the challenges of growing into adulthood. From a foundation of involvement in the Mother/Daughter program and summer youth day camps to her work at Community Corrections and the Enforcement Team, where she has served as co-chair, Chelle always has the best interest of youth at heart. Her most recent contributions come in the form of teaching alcohol server training classes for the Chemical Health Coalition and serving on the Faribault Hockey Association Board.
During this season of thanks, we are especially grateful to all community members that work so hard — without expecting recognition — to help others. Please join us in celebrating these individuals for their commitment to prevention and devotion to making Rice County a safe and healthy community for all!